The Evening CSIS: ISIS Counter, Duterte's Dollars, Howlin' Wolf & More
October 24, 2016
Good Evening,
Welcome to The Evening CSIS—my daily guide to key insights CSIS brings to the events of the day plus HIGHLY RECOMMENDED content from around the world. To subscribe, please sign up here.
ISIS Counter
ISIS is expanding its attacks throughout Iraq as it attempts to divert forces away from the impending showdown in Mosul. Since Friday, the towns of Kirkuk, Rutba, and Sinjar have all been hit. Reuters' Maher Chmaytelli and Stephen Kalin have the full report.
Dive Deeper: To get up to date on Mosul and where it fits in Iraq and the region's history, read "The history of Mosul, in five maps" in the Washington Post.
For a look at how Iraq can come out of this upcoming conflict as a stronger nation, read Jon Alterman's "Avoiding Old Traps in Iraq."
And for a look at both the patterns in the conflict with ISIS and some of the key uncertainties, read Anthony Cordesman: "The Uncertain Metrics of War Against ISIS."
Duterte's Dollars
Rodrigo Duterte is back in the Philippines following a productive state visit to China. Among the highlights of the trip, the Philippines president accepted $24 billion in financing and investment from China, much of which will go toward infrastructure. The New York Times' Jane Perlez reports on the aftermath of the trip and how it has rattled other countries in the neighborhood.
Dive Deeper: CSIS's China Power Project has produced another groundbreaking interactive report that seeks to answer the question: does China dominate when it comes to global investment? Find out for yourself here.
Systems Are Go
Anyone who watched the payload delivered to the International Space Station this weekend saw the combination of public and private spaceflight at work. To further research on what this new frontier holds for policymakers, CSIS today launched its Aerospace Security Project. Catch up on the event here and visit the project's homepage to learn more.
In That Number
7,500
The number of beds to be made available in temporary asylum centers in France for those evicted from the Calais "Jungle" migrant camp. Source: Washington Post.
Critical Quote
"In between now and the election, there could be moments of great success and also moments of great failure. This is going to be a long, hard slog."
— CSIS's Jon B. Alterman on the battle for Mosul. Source: WSJ.
One to Watch

(Photo Credit: Bengt Oberger.)
James A. Lewis is a CSIS senior vice president and the director of our Strategic Technologies Program. Yesterday, Jim authored a commentary about Russian hacking in the Cipher Brief, "Laying Down a Marker." On Friday, Jim joined C-SPAN's The Communicators to discuss Russian hacking and the potential for U.S. retaliation.
Optics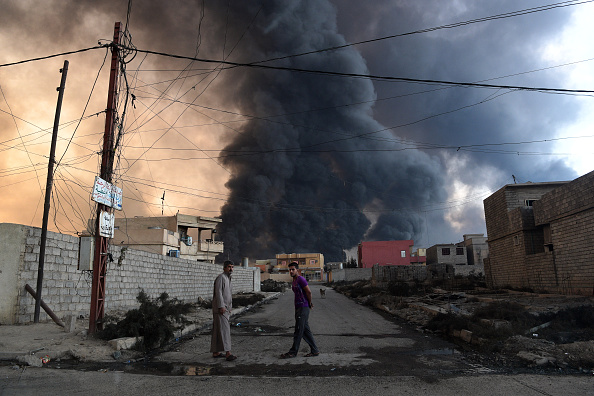 (Photo Credit: Carl Court/Getty Images.)
Local men stand before an oil field set on fire by retreating ISIS fighters in Qayyarah, Iraq. Several hundred Iraqi families have left their homes, as the UN warns they could be used as human shields.
Highly Recommended
The New York Times' Josh Haner, Edward Wong, Derek Watkins, and Jeremy White posted an incredible new interactive article: "Living in China's Expanding Deserts."
CSIS Today
CSIS's Energy and National Security Program hosted "Nuclear Energy at a Crossroads," featuring Ernest Moniz, US secretary of energy.
And we hosted the inaugural event of the CSIS Aerospace Security Project, a new CSIS initiative that examines space security, air dominance and long-range strike, and commercial and civil space.
CSIS Tomorrow
Join CSIS's Smart Women, Smart Power (SWSP) initiative at 9:30 a.m. for "Harnessing the Power of Tech and Innovation in America: A Conversation with Megan Smith, U.S CTO."
Join CSIS's Energy and National Security Program at 10:30 a.m. for "IEA's World Energy Investment 2016."
And join CSIS's Brzezinski Institute on Geostrategy and the Simon Chair in Political Economy for the launch event of a new CSIS initiative, Reconnecting Asia, featuring CSIS counselor and trustee Zbigniew K. Brzezinski and CSIS president and CEO John J. Hamre. Reconnecting Asia is the first effort to track ambitious plans for building roads, railways, and other hard infrastructure across the region at the project level.
This Town Tomorrow
Join the Center for American Progress at 9:30 a.m. for "Recalibrating U.S.-China Relations in Southeast Asia."
Join the Atlantic Council at 1:00 p.m. for "Geopolitics, Security, and Energy in The Arctic."
And join New America at 3:00 p.m. for "War and Tweets: Terrorism in America in the Digital Age."
CSIS On Demand
Today, CSIS hosted the inaugural event of its Aerospace Security Project. Watch the introductory video for an inside look at CSIS's new initiative on the issues facing air and space domains.
Sounds
Building the Future, CSIS's new podcast, talks higher education, agriculture, and institution building with Peter McPherson, current president of the Association of Public and Land-grant Universities (APLU) and former administrator of USAID.
I Like It Like That
"The iPod turns 15: a visual history of Apple's mobile music icon" via the Verge.
Smiles
We started talking about the legendary Chess Records and its group of unparalleled artists last week. The first name that comes to my mind when Chess is mentioned is Muddy Waters and his spellbinding command of the blues.
But then there's Howlin' Wolf. I don't think there was ever a musician who was more beloved, elegant and seemingly menacing at the same time. Wolf was functionally illiterate into his 40s, but he was an adroit manager of his finances and eventually returned to school to earn a GED and later to study business.
His songs are among the most important of any in the entire blues cannon. They influenced an entire generation of rock stars, the Stones, Led Zeppelin and The Doors to name just a few with songs like "Little Red Rooster," "Back Door Man" and "Killing Floor."
Another of Wolf's most successful tunes, "Smokestack Lightning" would go on to be performed or recorded by the Yardbirds, Manfred Mann, The Animals, The Who, The Grateful Dead, Quicksilver Messenger Service, Bob Dylan, Credence Clearwater Revival, Soundgarden and John Mayer.
Howlin' Wolf's original is the one that makes me smile.
Feedback
I always welcome and benefit from your feedback. Please drop me a line at aschwartz@csis.org