The Evening CSIS: New Capabilities, Les Scum, Hello & More
February 13, 2017
Good Evening,
Welcome to The Evening CSIS—my daily guide to key insights CSIS brings to the events of the day plus HIGHLY RECOMMENDED content from around the world. To subscribe, please sign up here.

New Capabilities
The Pentagon has assessed that North Korea's weekend missile launch showed new capabilities, as CNN reports today.
Dive Deeper: The CSIS Missile Defense Project's interactive micro-website "Missile Threat" has developed a " North Korea Missile Test Media Kit. "
And, CSIS's Anthony Cordesman has a recent web book: The Military Balance in the Koreas and Northeast Asia.

No Lecture
Prime Minister Justin Trudeau of Canada said today at a White House news conference that he will not lecture President Donald Trump on Syrian refugees, as the BBC reports.
And, as the New York Times' Ian Austen reports, the two leaders issued a joint statement on trade.

Les Scum
Marine Le Pen, the anti-immigration candidate in France's election, unleashed a social-media campaign attacking minority communities after successive nights of violence in the ghettos around Paris, as Bloomberg's Helene Fouquet reports.
Dive Deeper: Chatham House issued a new commentary last week: " What Do Europeans Think About Muslim Immigration? "

Atlantic Council Report Rebuts Russia's Claims of Restraint in Syrian Bombing Campaign
A new analysis by the Atlantic Council, which draws on satellite images, security camera videos, social media, and even footage from the Kremlin-backed Russian television network, has challenged Moscow's claims that its airstrikes on behalf of the Syrian military were an exercise in prudent restraint, as the New York Times' Michael Gordon reports.
Dive Deeper: The Atlantic Council's interactive report, " Breaking Aleppo. "

In That Number
565,000
The number of either registered or undocumented Afghan refugees that were pushed out of Pakistan in the second half of 2016. Source: Reuters/Human Rights Watch.

Critical Quote
"There is no placating Putin. There is no transforming him from a gangster to a responsible statesman."
—Senator John McCain in a USA Today opinion piece, " Russia Dissidents Are Our Moral Equals. "

iDeas Lab

CSIS's Bob Schieffer's About the News podcast features a new interview with Late Show host Stephen Colbert.
The Andreas C. Dracopoulos iDeas Lab at CSIS enhances our research with the latest in cutting-edge web technologies, design, audio, and video.

Optics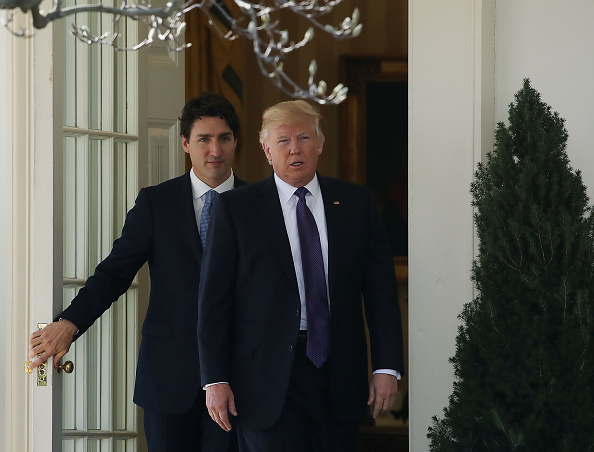 (Photo Credit: Mark Wilson/Getty Images.)
President Trump walks with Prime Minister Justin Trudeau of Canada after a meeting at the White House today.

Recommended Reading
The Wall Street Journal's Jerry Seib, " In Donald Trump's Fourth Week, a Chance for a Reboot, " in which Seib writes: "Reagan hit a crisis point in his presidency, he brought in one of Washington's most experienced hands, former Sen. Howard Baker. He stabilized Mr. Reagan's presidency, and his legacy."

This Town Tomorrow
Join CSIS's Freeman Chair and Simon Chair at 9:00 a.m. for a book forum on the IMF's Modernizing China: Investing in Soft Infrastructure.
Join Georgetown University's Center for Latin American Studies at 12:30 p.m. for a discussion with Ambassador Carlos Gianelli, Uruguay's ambassador to United States, as part of the Center's Ambassador Series.
Join CSIS's Simon Chair, Scholl Chair, and Southeast Asia Program at 1:30 p.m. for the report rollout of Reinvigorating U.S. Economic Strategy in the Asia Pacific, from the CSIS Asia Economic Strategy Commission.
And join CSIS's Africa Program at 2:30 p.m. for a roundtable discussion with Dr. Okechukwu Enelamah, Nigeria's minister of industry, trade, and investment, on recent economic developments and trends in the country.

On Demand
In December, CSIS's Korea Chair hosted the 2016 ROK-US Strategic Forum , featuring the Korean ambassador to the United States and the US ambassador to Korea, among other leading experts.

Sounds
Today's new ChinaPower podcast is the second in a two-part series on US-China relations in the first year of the Trump administration. In case you missed part one, you can listen to it here.

Smiles
People complain that music isn't "important" as it once was. That it no longer "speaks to power" and worst of all, that it's formulaic and not true art.
I don't buy those sentiments for a second.
In our on demand world, the delivery of music has changed. Album rock isn't chic as it once was and singles dominate. Mass appeal no longer indicates that an artist is the next "voice of a generation." And there is no single artist that has currently captured the Zeitgeist, as say, Donald Trump has.
But music is still so full of smiles and packed with potential. It isn't hard to imagine an as yet unknown artist who comes from America's hillbilly hamlets or urban jungles suddenly hitting the scene, capturing lightening in a bottle and transforming popular music.
Meanwhile, we have stunning performers like Adele who vacuumed up five Grammys last night and deservedly so. Her Grammy winning song of the year/record of the year/pop performance of the year, " Hello, " isn't transformational but it seems pretty magical to me.

Feedback
I always welcome and benefit from your feedback. Please drop me a line at aschwartz@csis.org