The Evening CSIS: Slammed, Enter Mosul, Baby Blue and More
February 24, 2017
Good Evening,
Welcome to The Evening CSIS—my daily guide to key insights CSIS brings to the events of the day plus HIGHLY RECOMMENDED content from around the world. To subscribe, please sign up here.

Slammed
US Ambassador to the UN Nikki Haley slammed Moscow's defense of Syria's use of chemical weapons ahead of a Security Council vote next week that Russian diplomats have vowed to veto, as Bloomberg's Kambiz Foroohar reports.
And, an Islamic State car bomb killed more than 50 people today in a Syrian village held by rebels, a war monitor said, a day after the jihadist group was driven from its last stronghold in the area, as Reuters' Angus McDowall and Humeyra Pamuk report.

Enter Mosul (and Syria)
Iraqi forces today entered a neighborhood in West Mosul for the first time since launching an operation to retake it from ISIS five days ago, as the BBC reports.
And Iraq's air force today carried out strikes against Islamic State in neighboring Syria, the country's prime minister Haider al-Abadi said, marking a dramatic escalation in its effort to roll back the insurgency by pounding a sanctuary across the border, as the Wall Street Journal's Ben Kesling reports.
Dive Deeper: See Building 'situations of strength': A National Security Strategy for the United States , a new report by Brookings, which convened a bipartisan group of foreign policy experts including Derek Chollet, Eric Edelman, Michele Flournoy, Stephen Hadley, Martin Indyk, Bruce Jones, Robert Kagen, Kristen Silverberg, Jake Sullivan, and Thomas Wright.

J'Refuse
Far-right leader Marine Le Pen has refused to be questioned by French police as part of a widening investigation into the alleged misuse of EU funds, presenting the inquiry as a politically motivated plot with France's presidential election just two months away. Ms. Le Pen, who is leading pre-election polls with her anti-establishment and anti-EU rhetoric, rejected a formal summons from French investigators this week, according to the French prosecutor's office and her lawyer, as the Financial Times' Michael Stothard reports.

In That Number
101.7 kg
The size of Iran's stockpile of uranium enriched up to 3.67% U-235—half the internationally agreed limit of 202.8 kg, but only after 100 kg of material at one plant was deemed unrecoverable and not included in the calculation. Source: Reuters.

Critical Quote
"Bio-terrorism, dirty bombs, and cyberattacks by terrorists are better left to the realm of fiction. The more exotic the weapon, the less likely it is to be used."
—CSIS's James A. Lewis authored a new commentary today, " Catastrophic Attack and "Reasonable Probability. "

iDeas Lab

This week's CSIS Podcast delves in to CSIS archives with remarks from President Trump's new National Security Adviser Lt. Gen H.R. McMaster. McMaster spoke at CSIS in May 2016 on the future of war and the enduring threats that the United States faces.
The Andreas C. Dracopoulos iDeas Lab at CSIS enhances our research with the latest in cutting-edge web technologies, design, audio, and video.

Optics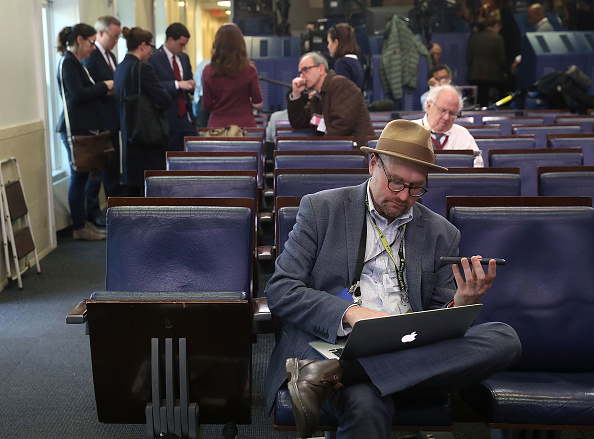 (Photo Credit: Mark Wilson/Getty Images)
New York Times reporter Glenn Thrush works in the Brady Briefing Room after being excluded from a press gaggle by White House Press Secretary Sean Spicer today. The New York Times, Los Angeles Times, CNN and Politico were also excluded from the off camera gaggle.

Recommended Reading
" US generals want elevated talks with Russia about Iraq and Syria operations because of aerial collision fears ," by the Washington Post's Dan Lamothe.

This Town Monday
Join CSIS's Americas Program at 8:30 a.m. for a two-part panel discussion on the way forward for the US-Mexico border.
Join the CSIS Simon Chair in Political Economy and the Asia Society Policy Institute at 12:30 p.m. for a discussion of the progress Japan has made on greater equality for women in the workforce , and on the challenges it faces going forward.
Join the CSIS Human Rights Initiative at 2:00 p.m. for the launch of a new report, Aligning Partnerships for Security: A Human Rights Based Approach to Security and Economic Cooperation.
And join Brookings at 2:00 p.m. for " Japan's trade policy in an era of growing anti-globalism. "

On Demand
Last week, CSIS hosted Jon Huntsman, Charlene Barshefsky, and Evan Greenberg for a conversation on " Reinvigorating US Economic Strategy in the Asia Pacific. "

Sounds
Russian Roulette released a new podcast today, " Of Old Tanks and Extremism in Russia ," which explores the dynamics of extremism in Russia and Russia's military capabilities.

Smiles
If you haven't watched every season of "Breaking Bad" but you want to at some point, stop reading this now because I have a bit of a spoiler alert with this smiles.
The final episode of "Breaking Bad" closed with an incredible piece of music. It tied the show together perfectly, closed all the loops, answered all the questions…sort of. Anyway, it was a really cool use of music in premium television, and years after the season finale of "Breaking Bad" I am still thinking about it. I doubt I will be thinking about any of the films nominated for Oscars past this weekend.
Badfinger's " Baby Blue " is a great rock and roll song. Enjoy, and have a great weekend.

Feedback
I always welcome and benefit from your feedback. Please drop me a line at aschwartz@csis.org