Essay Winner Spotlight: Health Policy, Governance and Accountability
January 27, 2010
Seeking fresh approaches to global health policy, the CSIS Commission on Smart Global Health launched an essay contest asking both students and professionals: What is the most important thing the U.S. can do to improve global health over the next 15 years?
The 2nd place essay in the professional/non-student category—and the top international essay—came from Dr. Rodrigo Arnez-Rojas of La Paz, Bolivia.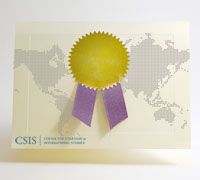 Dr. Arnez-Rojas, a clinical psychiatrist, sees patients free of charge as he works to learn more about health policy, administrative systems, and governance. His interest in improving Bolivian society came from his year of armed service at age eighteen, which exposed him to populations in need and situations very different from his previous experience. Those experiences inspired him to attend medical school, where he took an interest in mental health, and then to work at La Paz General—the largest but also most understaffed and underfunded hospital in Bolivia. After further education and practice in Mexico and Guyana, he returned to his native country and philanthropic medicine.
Listen to his as part of our ongoing Global Health Interview Series Podcast (mp3).
An excerpt:
I've been up the Madidi River, into the jungle to places where people accept the death of a child as a circumstance of life that has to them the same inevitability as poverty or abandonment or floods. I've seen people in need of help be turned away from hospitals because they could not afford a minimal cost and have also asked med students, nurses or strangers to donate blood for someone they had never met but needed it. I've had to tell patients and their families that even though much more could be done if we lived in a different country, we'd do what we could with what we had and hope for the best. I've tried desperately and many times in vain to convince patients not to abandon their treatment when the cost was so high it was running the entire family into the ground. I've seen my colleagues grow tired and jaded, accepting the inevitability of preventable death or disease in our people as endemic and beyond their power to create change.
Now, I am at point in my life and career that could be considered a midpoint and also a crossroads. I have concluded a medical specialty, I have returned to my country, and have worked side by side with others to try and change things for the better. Read more of this essay.

Related Content