Essay Winner Spotlight: Improving Global Health Through Scientific Development
January 16, 2010
Seeking fresh new approaches to global health policy, the CSIS Commission on Smart Global Health launched a contest to attract innovative ideas from both students and professionals. Entrants needed only to answer one question: What is the most important thing the U.S. can do to improve global health over the next 15 years?
We are pleased to highlight Andrew S. Robertson as the 2nd place in the student division.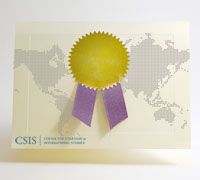 Andrew Robertson is completing his law degree at the University of California, Berkeley, with a focus on intellectual property, science policy and global health. From 2005 to 2007, Andrew was a AAAS S&T Policy Fellow at the U.S. Department of Health and Human Services (DHHS), Office of the Secretary, where he worked on policies concerning emerging and neglected disease threats. Prior to joining DHHS, Andrew researched protease inhibitors as a faculty research fellow at the Wellcome Trust Sanger Centre in Cambridge, UK. Andrew was a Gates Scholar at Cambridge University, and holds a Ph.D. in molecular genetics.
Listen to this story as part of our ongoing Global Health Interview Series Podcast (mp3).
Exceprt:
In late 2005, I traveled to Entebbe, Uganda, to participate in my first of a series of H5N1 influenza regional training workshop for African scientists. At the time, the U.S. Government was engaging the developing world to educate scientists about the pathology, epidemiology and detection of the growing H5 threat. During my presentation on the U.S. international bird flu strategy, I grew concerned that many in the audience looked skeptical. Finally, a doctor from south Sudan stood and asked, "Why is it that the U.S. considers H5 to be a priority for African countries?" I answered with mortality statistics from past influenza pandemics, but the purpose behind the question was clear. Bird flu was important, but it was a Western priority. The workshop participants came from countries with their own health crises, such as endemic disease, famine, drought, poverty and conflict, and wanted to learn how to confront these challenges head-on. They hadn't come to Entebbe that week to learn about U.S. policies on bird flu – they came to learn about the science. --- Read More
Related Content