Essay Winner Spotlight: Investing in Long-Term Partnerships Overseas
February 17, 2010
Seeking fresh approaches to global health policy, the CSIS Commission on Smart Global Health launched an essay contest asking both students and professionals: What is the most important thing the U.S. can do to improve global health over the next 15 years?
Among students, our top prize goes to Annie Dude, a medical student in Chicago who wrote about her experiences living and working with fellow medical students in India, the Dominican Republic, and Mexico.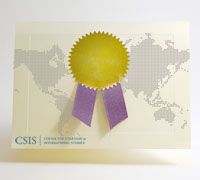 Annie Dude is an MD/PhD student at the University of Chicago. After completing medical school this year, she will pursue residency training in obstetrics and gynecology.
Listen to a reading of the essay as part of our ongoing Global Health Interview Series Podcast (mp3).
An excerpt:
When I recall my time studying medicine overseas, in India, the Dominican Republic, and Mexico, what I remember are the vivid faces. Of patients, yes, but the ones that stand out most are the faces of my colleagues: the animated laugh of the man who runs a disease surveillance lab in the Dominican Republic, who taught me about malaria. The serious expression on my fellow medical student Brahma's face as he translated for me on the wards, guiding my hand as I palpated a woman's tumor. The tears in my friend Marisela's eyes as she tells me how a patient of hers died in her arms after a car accident because her hospital had run out of blood. Having learned so much from them, I ask if there is anything I can do in return. Almost all of these young doctors give the same answer: 'give me the books you used to study for the U.S. Medical Licensing Exam.' Rather than remain in their countries, the dream for most is to emigrate to the U.S., or to Europe, as quickly as possible.
Part of me judges: Shouldn't you stay here, take care of your people? I can put up with cold showers for a summer, can't you? While some of my friends mention money, for most they seek to practice medicine in the U.S. for reasons beyond creature comforts. They are faced with the terrible conundrum of realizing that like me, they receive excellent medical training, but unlike me, their hands are often tied: they lack medicines, supplies, facilities, sometimes even electricity or clean water. They have the knowledge to recognize the illness but not the means to impart the cure. It might seem a waste to a nation to me, to have trained a physician whose main goal is to leave, but I morally can't ask someone to do something I won't do myself. Read more of this essay.
Related Content