Essay Winner Spotlight: Reducing Global Health Disparities
January 20, 2010
Seeking fresh new approaches to global health policy, the CSIS Commission on Smart Global Health launched a contest to attract innovative ideas from both students and professionals. Entrants needed only to answer one question: What is the most important thing the U.S. can do to improve global health over the next 15 years?
We are pleased to highlight Michael Strong as 1st place winner in the non-student/professional division.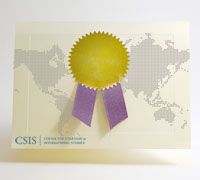 Michael Strong is currently a postdoctoral fellow in the Genetics Department at Harvard Medical School. His current research involves the genomic analysis of drug resistance mechanisms in the deadly human pathogen, Mycobacterium tuberculosis. His work focuses on elucidating new ways to better identify, study, and combat multi-drug resistant (MDR) and extensively drug resistant (XDR) tuberculosis (TB) strains in regions of the world where TB and AIDS co-infections are rampant, using a combination of molecular and computational research methods. Prior to his research at Harvard, Michael Strong earned his PhD at the University of California, Los Angeles, where he developed computational and biochemical methods to identify novel protein interactions and protein networks in human pathogens, including M. tuberculosis. Michael will soon be joining the faculty of National Jewish Health, one of the premier respiratory hospitals in the United States, as an assistant professor, where he will continue his research on issues affecting global health and disease.
Listen to this story as part of our ongoing Global Health Interview Series Podcast (mp3).
Exceprt:
Throughout the past century, great strides have taken place in our ability to both recognize and treat diseases affecting global health. As a community, we have progressed from knowing very little about the etiological agents of diseases such as tuberculosis and malaria, to understanding much about the biology and the causative agents of disease. Such efforts have culminated with the elucidation of the genome sequence of a host of deadly human pathogens including those that cause tuberculosis (M. tuberculosis), malaria (P. falciparum), and AIDS (HIV). Such efforts promise to provide clues to better combat these deadly diseases in the coming years.

Although we have learned much about the causative agents of infectious diseases, as well as methods to combat them, there remains a vast chasm separating the quality of health care for individuals in developed countries versus developing countries. There are many factors contributing to these disparities including inadequate access to medical facilities, physicians, and medications; poor nutrition; misinformation about disease and prevention; environmental and economic factors; cultural attitudes; and living conditions. Diseases such as AIDS, tuberculosis, and malaria are ravaging many parts of the world, and as a result, there is immediate need to address these diseases using a three tiered approach, focusing on research, education, and international collaboration. --- Read More