Kenya Documentary: Sex Workers, Peer Education, and Social Change
June 1, 2010
In Mombassa, Kenya HIV prevalence for female sex workers is 31 % and condom use remains extremely low among women in Coast province. Commissioners visited a commercial sex worker drop-in center to learn about the most HIV-at-risk populations in Kenya and hear their stories. Commissioners heard from peer educators who use their knowledge of HIV prevention and family planning to counsel sex workers and others to encourage healthier behaviors.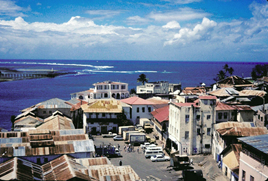 "The strategic location of the port city of Mombasa, which serves as the gateway to commerce in East and Central Africa, also contributes to HIV transmission. Major transport routes in Kenya and neighbouring countries are dotted with FSWs while the tourism industry, which is the backbone of the province's economy, attracts motleys of small business operators such as curio sellers, beach boys, tuk-tuk and taxi drivers, matatu crews and boda-boda cyclists – all of whom have disposable incomes. The thriving tourism industry, which attracts local, regional and international visitors and the presence of trucker drivers provide a perfect environment for commercial sex work." – APHIA II Baseline Behavioral Monitoring Survey Report, 2007 (download PDF).
Listen to Daughtie, Anne and Fuad tell their stories of empowerment, leadership, and the change they are having on their communities.
For more information, please read Janet Fleischman's recent blog post on Women's Health and HIV/AIDS in Kenya.
Related Content