The Last ONE
June 18, 2010
Article by Asad Ali Moten, CSIS

Last Thursday, in a room at CSIS full of global health and development professionals from around Washington, ONE presented its 2010 DATA Report on monitoring the G8 promise to Africa. With the 2010 report being the final in a series of ONE reports monitoring the G8 commitments made at Gleneagles in 2005, CSIS, the Knight Center for International Media at University of Miami, and ONE felt it was important to share the lessons learned and discuss the future strategies for ensuring the big donors meet their commitments. Where does the G8 stand? How did they perform? Moving forward, what should donor countries focus on in their development commitments?
To summarize: we're not quite there, yet. While the Gleneagles commitments to development assistance for Africa from 2005 to 2010 haven't been delivered in their entirety, David Lane, President and CEO of ONE, emphasized what went right. According to ONE's report, the G8 committed $22.6 billion over 5 years to Africa, and based on projections will deliver $13.7 billion, or 61 percent of its promised commitment, by the end of this year,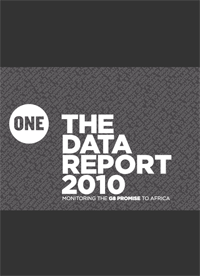 There is considerable variation across G8 member states in regards to how well they performed in increasing their development commitments. Canada, Japan, and the U.S. have come close to or exceeded their commitments. Some groups are of the opinion that these nations, given their economic weight, could have made more ambitious commitments and still lived up to them. Others believe that their commitments were shrewd and realistic, particularly given the global economic recession later in the decade. France and Germany are both delivering approximately a quarter of their ambitious commitments, and Italy has in fact failed in its commitment and decreased funding levels in 2009 and 2010. The UK, having made ambitious promises, is on track to achieve upwards of 90 percent of its goals by the end of 2010, as well as putting 0.7 percent of gross national income (GNI) towards overall development assistance (ODA) by 2013. Reaching this goal for a G7 nation would be a considerable accomplishment, with several smaller European nations having already met this level of funding.

So what comes next? Joshua Bolten, former White House Chief of Staff to President Bush, who served as Director of the Office of Management and Budget at the time of Gleneagles, commented that countries need to either make more realistic commitments, or be held to their commitments by their economic counterparts in the G8 or G20. Bolten also argued that assistance has to empower recipient nations, and that "fifty years is a long time to wait" to design a more flexible Foreign Assistance Act that can accomplish that goal. Building upon that, Dr. Pearl-Alice Marsh, Majority Professional Staff Member for the U.S. House Committee on Foreign Affairs, spoke about the need to better involve the partner governments. According to Marsh, African nations and leaders have voices and ideas, are ready to take on responsibility, and must be incorporated in the next round of development decision-making. The money may be in the billions, but without building ownership and accountability within partner governments by involving them in the process, the quality of those billions will not live up to their potential.

Both Bolten and Marsh agreed that the quality and quantity of the previous Bush Administration's follow-through on development commitments is laudable, but that more needs to be done. The challenge remains for the Obama Administration to renew and expand commitments with international partners, and to re-define how partners are to be meaningfully incorporated into the development discussion.

The complete ONE report can be found here.
Related Content