Report: From Conflicts to Pandemics
May 21, 2010
The CSIS Global Health Policy Center formed a working group in the spring of 2009 to examine the nexus of security and global health, with a special focus on the missions and programs of the U.S. Department of Defense (DOD). Specifically, the group concentrated on:
The role of the U.S. Department of Defense in preparing for global pandemics
Leveraging military-to-military cooperation to support global health
Preserving and improving civilian health in conflict-affected nations
Within this report are actionable recommendations for how the Obama administration can better use its military health programs to overcome knowledge gaps between the often segregated global health and national security objectives and improve interagency and civil-military communication. Recommendations focus on increasing global public health capacity, improving access to health care for host-nation civilians, and increasing security and stability abroad.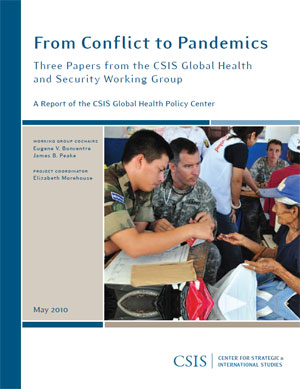 Download this report. Please use the comment form below to provide feedback!
Related Content