Upcoming Book Launch: Senator William H. Frist: "A Heart to Serve."
October 7, 2009
Friends,
I am excited to announce that my newest book, A Heart to Serve: The Passion to Bring Health, Hope, and Healing is now available in bookstores.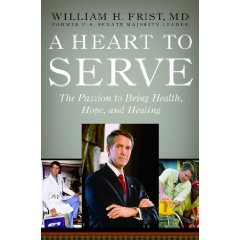 This book is not a political memoir. It is meant to be an inspirational book, which includes stories that have inspired me, both from my life and through the lives of others. It is a story that is told from three distinct, very different fields. Stories include my time in medicine as a heart surgeon, my time in politics as a Senator and through my ongoing efforts serving in the world of global health as a volunteer.
There are many stories of family and friends who have influenced my work, life, and service, such as pioneering surgeon Dr. Norman Shumway, General David Petraeus, Bono, Franklin Graham, and some of the most dedicated staff in the U.S. Senate who helped craft far-reaching legislation that improved the lives of others, both here at home and around the world.
It is my hope that this book will help show that every day life experiences can serve as a source of inspiration and encouragement in whatever field you are in, you can identify your passions and actively cultivate them to better the lives of others.
You can find copies of A Heart to Serve at all major bookstores, as well as amazon.com.
CSIS Book Launch (October 15, 2009) - Interview Series Podcast (mp3)
Related Content