The Vulnerability of Pregnant Women to H1N1 (Swine Flu)
November 11, 2009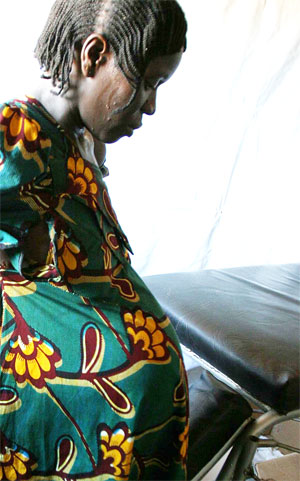 Pregnant women are known to be especially vulnerable to infection with influenza, including with the H1N1 virus, and to have an elevated risk of serious health complications, including disproportionately high fatality rates and spontaneous miscarriages. This increase in risk is due to the fact that a woman's immune system is compromised during pregnancy, and because she faces a greater risk of respiratory complications in the later stages of pregnancy as the enlarging uterus compresses her diaphragm and chest. While the number of H1N1-associated deaths in pregnant women has not been huge, the Centers for Disease Control and Prevention (CDC) has reported that 13% of all H1N1-related deaths between April and June were among otherwise healthy pregnant women. In addition, pregnant woman infected with H1N1 face a 4x greater risk of hospitalization than non-pregnant H1N1 patients.

Research shows that the H1N1 vaccine is safe for pregnant women, and that it can protect both the pregnant woman and her baby; at a minimum, they would likely get less sick than if they hadn't been vaccinated. This is why public health authorities, including the CDC and the World Health Organization (WHO), have made a strong case for making pregnant women a key priority group for protection from H1N1.

The H1N1 virus has now spread to every region of the world, and to virtually every country. Yet the limited vaccine supply leaves developing countries in a precarious situation about how to address the problems of vulnerable populations with a high prevalence of other infectious diseases and severely limited resources to respond to the H1N1 pandemic, combined with the additional burdens that will be placed on already weak health systems. The risks for pregnant women are especially acute in the 85 developing countries that will have to rely entirely on donated vaccines.

Delays in manufacturing sufficient doses of the vaccine and distributing them around the world has meant that little or no action has been taken to vaccinate pregnant women in developing countries. Donations are being organized by WHO, a group of rich countries led by the U.S., and pharmaceutical companies, that have pledged to donate 10 percent of their vaccine purchases to WHO for further distribution to developing countries. However, U.S. Secretary for Health and Human Services, Kathleen Sebelius, announced in late October that the U.S. would not donate its vaccines until "at-risk" Americans received the vaccine.


The WHO will be sending 156 million doses of the vaccine to 95 countries, with the aim of vaccinating 10 percent of the population. According to WHO, the first 16 countries have been contacted, with the aim of vaccinating an initial 2 percent of their populations. The first deliveries are expected to be sometime in November, and the primary target will be health care workers. Spare doses may go to pregnant women and other vulnerable groups, but broader coverage of these groups is expected to take much longer.

The H1N1 pandemic highlights the importance of building systems to prepare for and mitigate the effects of such a pandemic, including strong public health surveillance systems, as well as improved communications, laboratories, and immunization strategies. Since pregnant women are clearly at heightened risk for H1N1, it will be essential for countries to target them as a priority group, and to put in place appropriate strategies to reach them.
Image Credit: Flickr.com (hdptcar) Creative Commons 2.0
Related Content