World Toilet Day: Capitol Hill Event
November 19, 2009
On Thursday, November 19, please join CSIS and partners in commemorating World Toilet Day. While many people who have access to a toilet might consider this a humorous concept, the global sanitation crisis necessitates that a spotlight be shined on both the severity of the problem and the promising solutions. Join us on the lawn of the United States Capitol to learn about, and give voice to, the 2.5 billion people who lack access to a toilet and the 1.8 million who die annually as a result.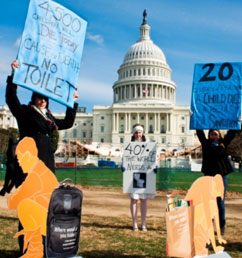 The event will consist of short speeches by experts, an informational demonstration, and the "Sanitation is Dignity" exhibit and will be covered by the media. Participants include: Senator Durbin (Invited), Representative Blumenauer (Invited), Representative Payne (Invited), Water Advocates, WaterAid, CSIS, Water For People, National Resources Defense Council, Earth Day Network and others.

Thursday, November 19, 2009, 12:30pm-1:00pm

At the United States Capitol, West Front Grassy Area (north panel);

West side of Capitol Building (facing Washington Monument). Near corner of 1st Street NW & Constitution Ave NW. Union Station is the nearest metro stop.


Background on the sanitation crisis:
2.5 billion people throughout the developing world do not have access to a safe way to dispose of their human waste. As a result, almost half of the people in the developing world are suffering from an illness spread through human excrement (such as cholera, intestinal worms, and diarrhea) and more children die each year from these diseases than from HIV/AIDS, TB and malaria combined.

The lack of sanitation also strips people of their dignity, contaminates the environment, and impedes economic progress. For example, Cambodia, Indonesia, the Philippines, and Vietnam cumulatively lose $9 billion a year through increased health costs, lost tourism income, and reduced economic productivity. Yet solving this crisis is achievable using new innovations and simple technology. According to the World Health Organization, every dollar spent on proper sanitation by governments generates on average $9 in economic benefit.

Please see WTOP report on last year's World Toilet Day Event: http://www.youtube.com/watch?v=-kuI-50DzzU&feature=player_embedded
For more information on the global sanitation crisis, please visit: http://www.wsscc.org/fileadmin/files/pdf/publication/IYS_2008_-_tackling_a_global_crisis.pdf
Guest author is Katryn Bowe, Research Assistant, CSIS Global Strategy Institute
Related Content